About ParceLLink®
Based near London Heathrow Airport, ParceLLink® is an online courier broker, run by trained industry specialists and enthusiastic customer service staff. We provide businesses and individuals with a wide range of domestic, European and international collection and delivery services.
Our easy to use website means anyone can get a quote, and book a collection, at any time of the day or night. With just few clicks of a mouse, the information is sent directly to your chosen carrier and the collection will be arranged immediately. Parcel tracking is also part of the online system, should you need to know where your parcel is at any given time.
All of our delivery services are provided by the world's leading providers of courier services, like DHL, Citylink and Aramex. This means as well as paying the lowest prices around, you are getting real peace of mind. You can be confident that your collection and deliveries are carried out quickly, professionally, and with the utmost care.
PARCEL & PALLET Delivery Services. Please go to the Quote-and-Book page for an instant quote
No need to register or open an account. Our customers benefit from a quick booking process
All services offered on our website are undertaken by the world's biggest Courier Companies
Orders are processed automatically and there is no need to manually fill in any paperwork
You can arrange your Parcel and Pallet Collections online 24 hours per day
Parcel and Freight Services to any destination Worldwide
UK, European and International Parcel Delivery Services
Personal admin area to manage previous orders and make new bookings in less than 2 minutes
Minimum insurance liability included. Additional insurance offered before check-out
Sameday Collections available if you book online by 11am
Importing Parcels and Pallets into the UK is easy and affordable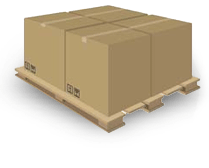 The lowest pallet rates ...
Prices start from only £27.00 + VAT per pallet and on average, ParceLLink® customers save up to 70% when sending large consignments.